I may as well review the first three books in this series together because that's how I read them — together! I picked up the first book and couldn't put it down. The series … not just the one book! When I finished the third book and saw that #4 wasn't ready yet I practically mourned my need to wait.
The books are: Forgotten Sins, Sweet Revenge, and Blind Faith. Together, they introduce us to the Sin Brothers, four (well three, more on that latter) brothers who were created artificially and trained brutally to be part of an enhanced soldier program. Eventually, the brothers escape and begin planning revenge on the people who hurt/used them.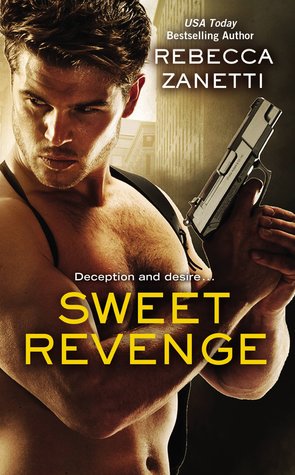 Sound familiar? Okay, okay! I didn't say it was original. Just addictive. This series is like really good chocolate. Nothing fancy, but oh how sweet!
The first book begins with Shane, who can't remember who he is. (No, don't put it down yet! It's okay.) His wife is called in to identify him and take care of him … except, his wife hasn't seen him in two years and is pretty ticked off at him for running out on her without a word of explanation. She was just about to file divorce papers when he shows up, and it is her greatest desire to have him sign them.
Things don't go according to plan. Shane doesn't want a divorce, and there's someone trying to kill him — or her. They're not sure. Plus at some point he begins regaining bits of memory. That's when his brothers swoop in.
These books have a high steam rating … so be prepared! There's also plenty of action, adventure, and mystery. I found the mystery to be a bit predictable. I guessed at the endings most of the time, especially after the first book. But some books are predictable in an "I really couldn't care less now that I've figured it out" way and other books are predictable in a "I'm still enjoying the ride" way. These books definitely fell in the latter category.
The best thing about these books was the brothers themselves. Each one was super good looking of course, but more than that — smart, strong, capable, and enhanced. They had super hearing, among other things. And underneath the rough exterior was a marshmallow heart. Each book begins with a prologue that shows the brothers as kids, just trying to survive in their harsh environment with nothing but one another for support. As adults they want a family more than anything else, and I wanted to read about them getting it.
Each book focuses on one brothers … Shane, Matthew, and Nate. The last book will focus on the missing brother, the one who disappeared two years ago and who they fear is dead. (That's not a spoiler, it's pretty obvious from the first book.) They also have another problem they are struggling to work through. They're going to die soon if they don't get these chips implanted near their spines disabled.
I can't wait to see how this ends!
I highly recommend this series to readers who enjoy steamy romantic suspense with a mild scifi/fantasy twist.