A few years ago I had never heard of them, but now they're everywhere: Companies willing to deliver everything you need to prepare your own culinary masterpiece.
These companies cater largely to working singles and couples who want to play in the kitchen on the weekend. (Their deliver schedules universally favor weekend chefs.) That is not me. I'm a work-at-home mom with two kids (9 and 12). Sometimes I think I live in the kitchen. I certainly know how to cook, at least to a point. So why did I decide to give this a try?
Put simply, I'm in a rut. I cook the same basic meals on a rotation, and I usually opt for cheap and fast. When I do work up the motivation to try new dishes, especially fancy new dishes, something usually goes wrong: bad recipes abound on the Internet, and high-quality ingredients, when readily available, often sit right next to temptingly cheaper options. Sometimes, they are hard to find at all.
Many of these services advertise a monetary savings compared to the grocery store, but I don't believe it. Even if you choose the best quality, freshest, organic ingredients, and even if you take into account the ability to scale quantities, I don't believe there's a real monetary incentive.
But money is not the only value. Time is of value. Excellent recipes are of value. Confidence in the kitchen is of value. And pushing me out of my comfort zone is of value.
One last note: I am currently trying to lose weight using an intuitive, mindful eating approach. I observe that I am more satisfied when I truly enjoy what I'm eating, so that is an additional value I seek.
With all that in mind, let's get started!
My first foray into gourmet meal delivery services was Home Chef, which offered a $30 discount on the first order. Thanks! That did, in fact, help me click "buy."
Selecting meals was easy. You simply log into their website, choose from a wide selection of choices, and make sure you have your order in place by the Friday before your scheduled delivery date. They had a lot of yummy looking choices, but in the end, I went with their recommendations.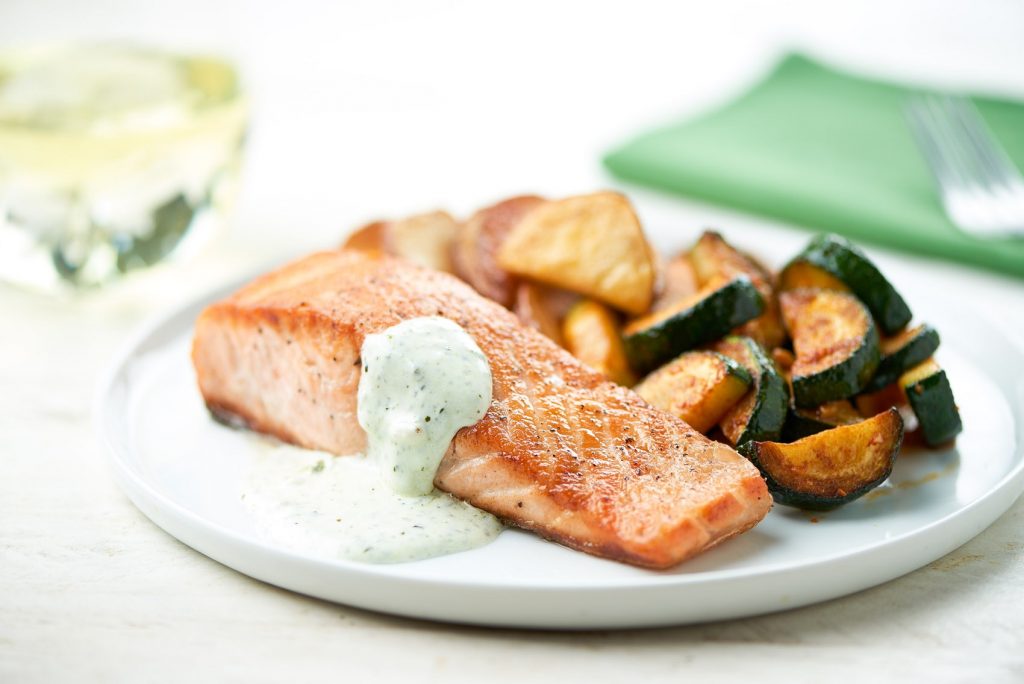 Salmon with Green Goddess sauce was a fantastic dish that the whole family enjoyed. I make salmon at home all the time, and I don't do half bad at it when I get a good fillet. (This is one of those cases where the quality of the product will make or break the dish.) The zucchini, on the other hand, is something I tend to do boring things with and am usually disappointed by the result. This zucchini was well flavored via white wine and fresh paprika. Roasted potatoes are a staple in this house, but the recipe made these even more convenient to prepare by cleverly starting them in a skillet, then baking them in the oven in a way that had both the salmon and potatoes coming out at the same time. The green goddess sauce was wonderful too, and an easy throw together.
As we ate, we considered the cost of this meal at the grocery store. With the first-week discount, it was clearly cheaper than anything we could have bought. But actually, given the high quality of the ingredients, it would probably be pretty close at full price – in this case. (I do not believe this is true of most of their meals.) Then consider the fact that it came to my door, packed in ice, neatly divided into little pouches, and complete with easy-to-follow instructions … yeah, there's a value here. It's definitely a yuppy value, but I grudgingly confess that I qualify.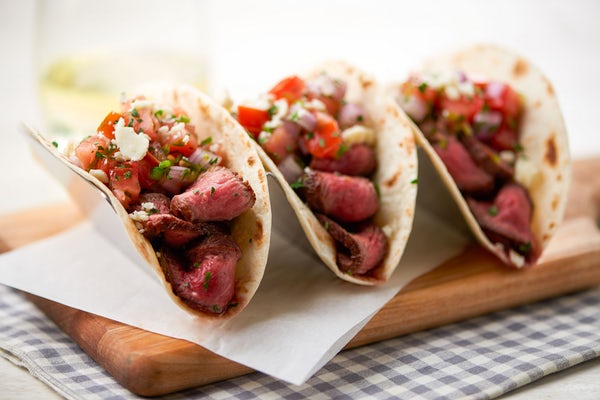 Acapulco Steak Tacos were good too, although not as good as the salmon. The pico di gallo was the highlight of the dish, a combination of fresh tomatoes, shallots, jalapenos, cilantro, and lime juice that marinated while the steak cooked to let the flavors develop and that created a sort of garden fresh accompaniment to the steak. I did mess up by dobbing sour cream on my first taco, because in my experience, sour cream always goes on tacos. It does not go on these tacos. It obscures the flavors, weakening them.
As a value comparison, it's a bit harder to justify these tacos. Even fresh and organic, I could purchase these ingredients at about half the cost. The only caveat is that I don't know what was in the beef marinade. (It came already marinating in something.)
Again, this came with clear, easy-to-follow instructions. I will say that I have tried to make tacos similar to this before and failed. Most recipes say to cut the meat before you cook it and this creates strips of thin, tough meat. This recipe had me cook the steaks then cut it into strips, which worked out much better.
I would probably not order this particular meal again, but I can understand why it is a successful customer favorite and I'm glad I gave it a try.
Environmental Impact
I was a little concerned by the environmental impact of the shipping methods. I'm not sure if anyone does it better, but this si something I plan to look out for. They claimed the ice packs were "recyclable by reusing" but we didn't need them for anything. There was also a great deal of insulating material that needed to be thrown away, although some of this did go toward our daughter's egg drop project.
Customization
Number of servings: While you can choose dinners for two, for, or six people, it is worth mentioning that Home Chef packages their meals for two people at a time. They will send you two packages for the four-person plan, and three for the six-person plan.
*The recipes are written for the two-person package.* I had to double the recipe for my four-person family as the enclosed instructions were written for the two-person package, including amounts. If I have one complaint to make about this company, it's this. For the cost, they should have sent a set of instructions that didn't require me to do math in my head, detracting from the ease I mentioned above.
Delivery frequency: Shipments must have a $50 value. I had no problem with this requirement, because it would be hard to justify their shipping costs for cheaper deliveries.
They will, however, ship you food less frequently than once a week, if you like the services but maybe can't afford quite so much every month. They'll ship them every two weeks, or three, or four, or let you put a pause on your account indefinitely, welcoming you and your money back whenever you're ready. 🙂
Sustainability: Each dish has a use by date, specified on the web site so you can plan accordingly. The salmon, for instance, needed to be used within three days. The steak tacos within five. You can choose to have your meals delivered on Wednesday, Friday, or Saturday depending upon your needs.
Overall Impressions
I was surprised by how much I liked this program. I'm still having trouble justifying the expense, especially since I'm not exactly the target market for this service. But as much as I try to cook excellent foods, I'm a cook, not a chef. You want meatloaf and mashed potatoes? I got your meatloaf and mashed potatoes. Cookies? I'm awesome at cookies. And nice hearty soups are no problem either.
These meals were things I wouldn't be upset to be served at a sit-down restaurant. Yes, I still had to cook them, but they were easy and convenient, and created few dishes.
I felt pampered, just a little bit, using this service.
So yeah, I think I could try this again. But I plan to try a different service first, because I'm the kind of girl who likes to shop around. When I finish, there will be a side-by-side comparison.
Next up – Plated!