Last week I posted an article entitled Virtual Book Tours: Wise Investment or Waste of Money? Of course the next logical question is: Which tour companies did I like best?
Generally speaking, the best tour companies were the ones who could COMMUNICATE effectively. Companies who responded quickly and professionally to my e-mails did a better job of organizing their tour stops and delivering a tight schedule. You better believe that if they're not talking to you, they're also not talking to their bloggers. Companies with ineffective communication skills were more likely to have missed or late stops.
When considering any tour company, try this simple test: Send them an e-mail and ask them something about their tours. It doesn't really matter what you ask. It's a test! If they take less than 24 hours to get back to you, that's a good sign. If they take more than three business days to get back to you, run away.
VBT Recommendations
*Note: Cost is based on a one-month standard tour. Many tours offer different tour options — shorter or longer — but I tried my best to compare apples to apples.
Cost: $140
Highly Recommended
I mentioned up top that communication is the most important aspect of a virtual book tour. Well, Goddess Fish set a new standard for communication excellence during my November through January Secrets and Lies tour. I never had to wait long to hear from this company, and most days they were ahead of me when it came to stopping by a blog to thank the day's tour host for posting. If a host didn't post, they sent me an e-mail telling me so, and that they were working on it. The second it went up, I got another e-mail. They must have good communications with their bloggers too, because there were only a few delays. Posts were up as promised over 95% of the time.
I loved the packed schedule Goddess Fish offered me. Most tours have white space — a day or two that gets skipped. Not so with Goddess Fish. I had something every day (except the week of Christmas, which we all took off).
I highly recommend this tour company because the price is right, they are friendly, communicative, and professional.
The only negative thing I can say about this company is that their tour banners are not as attractive as those provided by other companies.
Cost: $125
Highly Recommended

I just signed up for a second tour with this company beginning in March. Next to Goddess Fish, they were the best communicators and ran the smoothest tour. It was a close second, too. Very few stops missed, and their banners are gorgeous! I even love the name.
I do not recommend buying the package that includes radio show coordination. All they did was send me contact info for these shows, including their own radio show. I recommend their standard tours.
Cost: $90
Highly Recommended
I have worked with this company three times because the price is so competitive, Melissa is very friendly, they deliver what they promise, and there are few hassles. Communication was good — before I worked with Goddess Fish I would have given them top billing in this category. Even now, they're a close second.
They've been inconsistent with their banners… I hope this means that they are getting better at it because my Cassie Scot (book 1) banner was not nice at all, but my Secrets and Lies (book 2) banner was nice.
For the price, you really can't go wrong!
Cost: $95
Highly Recommended
I may have quoted the price for a one-month standrad tour (to make the comparison fair), but what I love about Innovative Online Tours is their review-only blitz. Talk about a great way to get some reviews! Vickie is awesome, and I might add that this is one of the few companies that is willing to help you promote an audiobook.
This is another tour company that may be getting better at banners over time.
The only rela problem I have with this tour company is that they do not have individual tour pages like most companies offer. Current tours are all listed together on one page. But in terms of value for your dollar this is hard to beat, especially if what you really need are reviews.
Cost: On Request
Tentatively Recommended
I hired this tour company for a one-day blitz in July. The event went off without a hitch and I have nothing negative to say about them. I simply don't have enough information about them to highly recommend them. I have considered using them again, especially because they have a lot of UK blogs (their price sheet was in pounds), which would give me exposure to a slightly different audience. But again, one day isn't a lot to go on.
Cost: $150*
Okay
I had to star the cost here because they do not offer a one-month tour. The $150 is for a 2-3 week tour.
I had some trouble with this company in July, when I signed up for a three-day blitz. BK said there was a technical malfunction and made it up to me by giving me a free three-day tour for Secrets and Lies, which went fairly well. I respect companies that own their mistakes and try correct them like this. They are professionals.
But I have not used them for a tour lasting longer than three days because their relative cost is high and they do not offer a tightly packed schedule. Communication and appearance are respectable but not phenomenal.
Cost: $100*
Not Recommended
Cost is starred because it is not posted. This was the approximate cost for 20 stops back in August when I used them.
I signed up for a one-week "get me as many tour stops as you can" deal. They were booked months in advance, probably because when I signed up they were only just beginning to charge for their services. (They had previously been a free or by-donation service.) They didn't get started organizing my tour until a few weeks in advance, even though it was booked months out. There were some communication difficulties when they finally assigned me a tour organizer. There ended up being quite a few no-shows the week of. And their billing was weird — half up front, half two months after the tour was over (by which time I had assumed that they were not going to charge me full freight because we only barely got enough stops to warrant it). I think they forgot to bill me and sent it later… but it struck me as being oddly unprofessional. And it was annoying.
My honest sense for this company is that they're new and don't have their legs under them yet. There's a chance that they could improve, but I can't recommend them based on my experience.
Cost $299
Not Recommended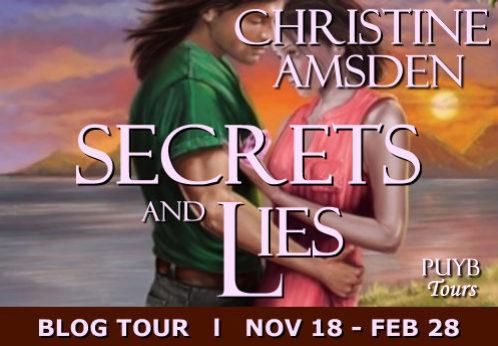 This company sucked me in with the idea that they somehow had access to higher quality blogs than other companies. (To be fair, their blogs do average more followers than those on many other tours.) When Cassie Scot: ParaNormal Detective sold very well during its release, I attributed a lot of of its success to Pump Up Your Book. (I even left a review to that affect, which I have since removed.) I rehired them for Secrets and Lies, despite the fact that they are expensive and frankly a headache to work with.
Communicating with PUYB is like pulling teeth. They are disorganized, often losing or not responding to e-mails. Almost half of their stops do not go up on time, and quite a few do not go up at all. When I follow a link to a tour stop each morning, it is with no expectation that I will see my book featured as promised. Their tour schedule is chaotic — you may have a stop a day for a week then nothing for a week. Most of their scheduling is done at the last minute, making them stressful to work with.
For those who would still consider this company, I don't recommend using their longer tours. Tours longer than a month are only scheduled one month at a time, and again there is stress each month as I wonder whether or not my tour will be filled. At this point I have one month left for my Secrets and Lies tour with them and it is not full.
Review requests sometimes come in with little notice, and I often have to e-mail them back to ask for mailing addresses. Also, once book two in my series came out, I constantly had to ask whether the reviewer needed both books or just the second. In many cases, I never received an answer to that question.
They always try to make amends when things go wrong. The people who organize this company are perfectly friendly. But oh, the stress! The chaos!
This company is one of the oldest in the business, which could be part of the reason for their success. But against the many other options that are available today, I simply cannot recommend them.
Cost: $135
I included Book Monster for the sake of completeness — I said I worked with nine companies and this si the ninth. I am not going to make a recommendation regarding this company because the owner/coordinator was hospitalized several times during the tour and the months leading up to it. Obviously, things didn't go off without a hitch, but I am human enough to accept that bad things can happen. I did get a partial refund. I wish the owner of this company better health in the future and would add that even when times were tough, she gave it her all.