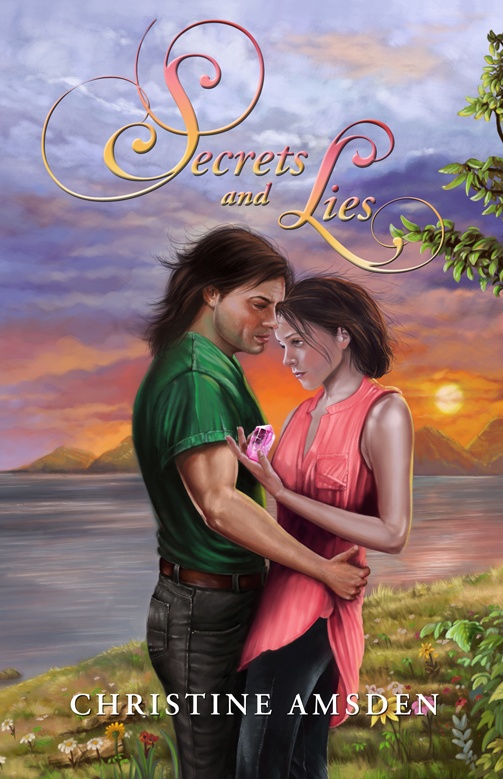 Ural Akyutz once again provided the cover artwork for this book.
With the cover art in, we can now OFFICIALLY say that the release date for Secrets and Lies is November 15, 2013. The book will be available in ebook, paperback, and if I can manage to get it recorded by then, audiobook. (I'm hoping to announce the release of Cassie Scot #1 in audiobook later this month.)
Book Blurb
Cassie Scot, still stinging from her parents' betrayal, wants out of the magical world. But it isn't letting her go. Her family is falling apart and despite everything, it looks like she may be the only one who can save them.
To complicate matters, Cassie owes Evan her life, making it difficult for her to deny him anything he really wants. And he wants her. Sparks fly when they team up to find two girls missing from summer camp, but long-buried secrets may ruin their hopes for happiness. Book 2 in the Cassie Scot Mystery series.
You can read the first few chapters here.
About the Series
These books do not stand alone!!!. I cannot stress this enough. I would love for you to read Secrets and Lies, but if you haven't read Cassie Scot: ParaNormal Detective, you won't get it. Give that one a try first and see what you think.
Secrets and Lies is the second book in the Cassie Scot mystery series. Each book in the series is framed by a mystery, hopefully providing a natural stopping point, if not exactly a sense of conclusion. I admit that I wrote each ending hoping the reader would want to come back for more! IMHO, this second volume ends on a steeper cliff than the first. I might have cackled evilly when I first wrote the ending to this book. Tough to remember. 🙂
Cassie's story is four books long, and all of those books have been written. With any luck, the final two books in this series will be available by next summer. Books three and four are called Mind Games and Dreamer respectively.
Spin-off sequels are planned for Cassie's two best friends, Madison and Kaitlin. I expect to finish writing Madison's Song soon. Kaitlin's story is barely at the drawing board so no promises on that one. The reason I'm writing these books is that Madison and Kaitlin got too big and told me that not only was there not enough room for their stories inside Cassie's, but that their stories really weren't Cassie's to tell anyway. I really couldn't fault their logic. 🙂
Those are all the stories I have planned for this series. After that, I'll go wherever the writing wind takes me.
Secrets and Lies teasers:
There is more romance in this book than in the first.
Cassie will learn something about her mom that she never knew before.
Madison and Kaitlin will both become more important, developing subplots of their own (that will eventually spin off into their own novels).
Angie is not in this book.
Long-time enemies Victor Blackwood (Evan's father) and Edward Scot (Cassie's father) will meet face to face in this book. The results may be explosive.
You will learn a bit more about why Victor and Edward hate one another.
Enjoy!