Characters Welcome is a new blog series in which authors have a chance to introduce their characters and tell readers how they "met."
I'm honored to have kindle bestselling mystery author Aaron Lazar join me for the first post in this series. Please welcome him, and particularly welcome his character, Quinn Hollister!
How I Met Quinn Hollister, of Tall Pines Mysteries, by Aaron Paul Lazar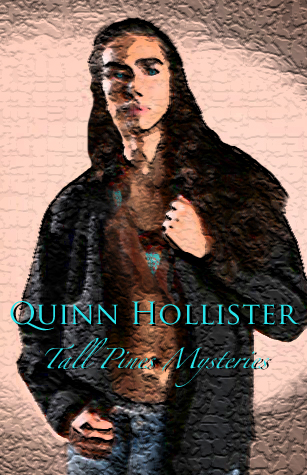 Quinn Hollister was born amidst unexpected chaos.
I met the protagonist of the Tall Pines Mysteries series when I was laid off from Kodak in 2009 after nearly thirty years of service. I'll never forget it. The angst. The shock. The feelings of betrayal. And yes, the extra time for writing that was one of the many unexpected blessings associated with the layoff.
Quinn and the love of his life, Marcella, her mother, Thelma, and their bird, Ruby, surprised me right around that same time by appearing in a dream.
I know, how clichéd can you get? But it's true. The dream was vivid and enticing, depicting a luxurious bird resort in the Adirondacks, and a little tangerine-red bird named Ruby who snuggled on my shoulder and won my proverbial heart.
I've never owned a bird. I never knew a bird, aside from those morning doves outside my window. And until this happened, I never thought about birds.
From this bewildering dream the Tall Pines Mystery series developed. And with it, Quinn Hollister, the bird's owner and husband of my female protagonist.
Life was quite tumultuous at this point, as you can probably imagine, with me constantly on the hunt for engineering work for the day job, but in spite of the trying circumstances of worrying about survival and putting food on the table, I also had some free time to travel locally.
In a strange and convoluted way, the layoffs opened up a new world of opportunity, including the birth of this new, totally unplanned, third mystery series set in the Adirondack Mountains of Upstate New York, as well as the creation of Quinn Hollister. (the other two series are LeGarde Mysteries [10 books] and Moore Mysteries [3 books])
My wife and I found a cabin overlooking the Sacandaga River in Hope, New York. It was inexpensive, relaxing, and a perfect setting for a mystery. We fell in love with the majestic beauty of the area, especially the soft, cleansing waters of the Sacandaga River over which the rustic cabin perches.
Quinn evolved slowly. At first he was an OCD Italian name Joe, until a friend pointed out that he resembled a popular TV character in the Monk series.
I'd never heard of Monk and rarely watched television, but I didn't want the world thinking I'd copied his persona. So, I encouraged this character to evolve.
Probably because I'd been obsessing lately over my own somewhat distant Native American heritage, Quinn morphed into a tall, serene, half-Seneca antique collector with clear turquoise eyes bequeathed to him by his long-dead English playwright father. Married to Marcella, his wife of eight years, he adores her and manages to drive her nuts at the same time with his borderline case of OCD. This gentle man moves with grace, builds sweat huts, and wears in his glossy black hair long. He swims every morning in Honeoye Lake and likes things evenly spaced and on plan. Piles of magazines must be neatly stacked, forks and knifes should be aligned and parallel, socks need to be neatly separated by color in the drawer, and if a stock pot isn't clean upon inspection, it will be rewashed without discussion.
I've grown quite fond of Quinn and his family, and I feel terrible about what I've put them through. Especially in this last book, MURDER ON THE SACANDAGA (est. 2014/2015 release).
Quinn loves Marcella. He'd do anything for her, including putting up with her very annoying mother, Thelma, who lives with them. But there's one thing he doesn't like one bit, and that's Marcella's long time association with her former lover, Sky Lissoneau.
Sky—Marcella's first sweetheart—proposed to her twenty years ago after her college graduation. Alas, she broke his heart when she lovingly declined, deciding to pursue her operatic singing career in New York City instead of marrying him. Completely devastated, Sky joined the military and eventually went MIA, where for eighteen years friends and family agonized over his safety.
In Essentially Yours, book two in the Tall Pines series, life changes in a most surprising way when Sky's backpack arrives on the doorstep jammed with a mysterious collection of essential oils, a password-protected memory stick, a bag of emeralds, and a book of Shakespeare's sonnets. After an intense adventure involving an evil drug company and a possible cure for leukemia, Sky shows up. While it's confusing to Marcella (she still has feelings for him, but loves her husband at the same time), Sky's return spikes jealousy in Quinn, and ultimately this homecoming causes a great deal of grief and what ends up being a tantalizing trio filled with plenty of sexual tension.
Coming back to the subject of my current work in progress, MURDER ON THE SACANDAGA, I really do feel bad about what I did to Quinn in this story. I tore a rift between him and his wife, and almost destroyed their marriage.
What's wrong with me? Why did I allow such conflict between two happily married people? Didn't they have enough problems with the big evil drug company chasing them all over the mountains, trying to kill them?
Frankly, I still blame Downton Abbey, which I have recently claimed made me into a virtual murderer. (You can read about it here if you wish.) I'm afraid being exposed to all kinds of family drama pushed me into a mode I hadn't yet experienced. Great conflict, high tension, and lovely surprises. Horrible deaths of beloved characters.
(Evil chuckle) Did I tell you I loved it?
In time, my characters and I both found resolution to our problems. After a year of searching, the perfect day job arrived. I am now happily employed at a small German company. Our Rochester office has four employees and an office dog. How cool is that, right?
In the end of MURDER ON THE SACANDAGA, I allowed Quinn and Marcella to make up, and to forge ahead in the world I've created for them in the Tall Pines Mystery series. Who knows what book five will hold? I hope I'm not too hard on them. After all, they need to carry on for many more books to come. And I really do have to live with myself. Somehow. ;o)
***
Twilight Times Books by multi-award winning, Kindle bestselling author, Aaron Lazar:
DOUBLE FORTÉ (print, eBook, audio book)
UPSTAGED (print, eBook, audio book)
TREMOLO: CRY OF THE LOON (print, eBook, audio book)
MAZURKA (print, eBook, audio book)
FIRESONG (print, eBook, audio book)
DON'T LET THE WIND CATCH YOU (coming 2013)
VIRTUOSO (~2014)
HEALEY'S CAVE (print, eBook, audio book)
TERROR COMES KNOCKING (print, eBook, audio book)
FOR KEEPS (print, eBook, audio book)
FOR THE BIRDS (print, eBook, audio book coming 2013)
ESSENTIALLY YOURS (print, eBook, audio book)
MURDER ON THE SACANDAGA (~2014)
WRITING ADVICE: 
WRITE LIKE THE WIND, volumes 1, 2, 3 (ebooks and audio books)
Aaron Paul Lazar writes to soothe his soul. An award-winning, bestselling Kindle author of three addictive mystery series, Aaron enjoys the Genesee Valley countryside in upstate New York, where his characters embrace life, play with their dogs and grandkids, grow sumptuous gardens, and chase bad guys. Visit his website at http://www.lazarbooks.com and watch for his upcoming Twilight Times Books releases DON'T LET THE WIND CATCH YOU (2013), SANCTUARY (2013), and VIRTUOSO (2014).
HONORABLE MENTION Eric Hoffer 2013 GRAND PRIZE * FINALIST 2013 EPIC Book Awards * FINALIST 2012 FOREWORD BOOK OF THE YEAR AWARDS * Finalist DaVinci Eye Cover Award 2013 * WINNER 2011 EPIC Book Awards, BEST Paranormal * FINALIST 2011 FOREWORD BOOK AWARDS * WINNER 2011 Eric Hoffer BEST Book, COMMERCIAL FICTION *Carolyn Howard-Johnson's Top 10 Reads for 2012 * 2X FINALIST Global eBook Awards 2011 * Preditors & Editors Readers Choice Award – 2nd place 2011* Carolyn Howard-Johnson's Top 10 Books of 2012 * Winner of Carolyn Howard-Johnson's 9th Annual Noble (Not Nobel!) Prize for Literature 2011 * Finalist Allbooks Editor's Choice Awards 2011 * Preditors&Editors Top 10 Finalist  * Yolanda Renée's Top Ten Books 2008  * MYSHELF Top Ten Reads 2008  * Writer's Digest Top 101 Website Award 2009-2012
http://aaronlazar.younglivingworld.com