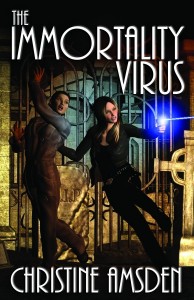 Yes, that's right, The Immortality Virus has won the 2011 Global eBook Award for science fiction!
Winning something like this is salve for the soul. Writing is often an isolated business, without daily feedback. It takes years to get published and more years for the public to really notice you've been published. So each day, the energy to keep going comes from an inner light.
Then, one day, after years of struggles, someone says, "Hey, this is pretty awesome!"
Why yes, yes it is. Oh, wait, you meant the book. 🙂
That's why we do the cliched thank you thing that everyone does. No, it's not original, but it is heartfelt.
So, thank you to those running the Global eBook Awards for choosing to honor some of the best electronically published books, and for recognizing that this is the wave of the future.
Thank you to my husband, Austin, for being the most supportive husband an artist could ask for.
Thank you to my parents, for their support and suggestions.
Thank you to my publisher, Lida Quillen at Twilight Times Books, for giving me a chance, and putting her money behind my projects.
Thank you to Codex Writer's Group, because you're awesome, too.
And a big thank you to the readers out there who have been willing to give a new, relatively unknown author a chance, especially those who have left feedback on goodreads or their blogs. I get a goofy little smile on my face every time I see that someone has read and enjoyed my book.