New Release

Beware your heart and soul…
Evan broke Cassie's heart two months ago, and she still doesn't know why. She throws herself into family, friends and her new job at the sheriff's department, but nothing helps. The only thing that finally allows her heal and move on is the love of a new man, mind mage Matthew Blair. Cassie finds him…irresistible.
Matthew may also be the only one who can help keep the non-magical residents of Eagle Rock from going crazy over the murder of a beloved pastor's wife. It looks like a sorcerer is to blame, but while Cassie tries to figure out who, others take matters into their own hands. With tensions running so hot, a single spark might set Eagle Rock ablaze. Book 3 in the Cassie Scot series.
Buy now (ebook)
Print Release June 15, 2014
Audiobook Release TBA (Why don't I know for sure?)
Other Books in the Cassie Scot Series…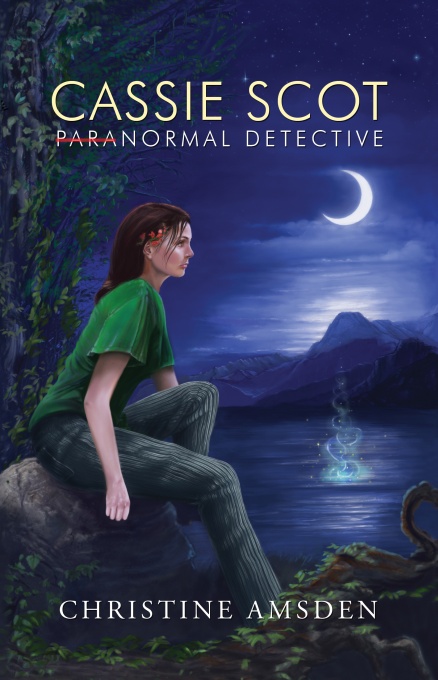 Cassie Scot is the ungifted daughter of powerful sorcerers, born between worlds but belonging to neither. At 21, all she wants is to find a place for herself, but earning a living as a private investigator in the shadow of her family's reputation isn't easy. When she is pulled into a paranormal investigation, and tempted by a powerful and handsome sorcerer, she will have to decide where she truly belongs.
Winner of the 2013 Global Ebook Award for Fantasy
Buy now in print, ebook, or audio…
"When sorcerers call the shots, what's a girl without powers to do? Get ready for a ripper of a murder mystery full of romance and intrigue, where magic potions bubble, passions spark and vampires are definitely not your friend Cassie Scot: ParaNormal Detective grabs you by the heart and won't let go until the very last page. Well written, immersive and unputdownable. This is urban fantasy at its best. More please!" – Kim Falconer, bestselling author of The Spell of Rosette, Quantum Enchantment Series

 Cassie Scot, still stinging from her parents' betrayal, wants out of the magical world. But it isn't letting her go. Her family is falling apart and despite everything, it looks like she may be the only one who can save them.
To complicate matters, Cassie owes Evan her life, making it difficult for her to deny him anything he really wants. And he wants her. Sparks fly when they team up to find two girls missing from summer camp, but long-buried secrets may ruin their hopes for happiness. Sequel to Cassie Scot: ParaNormal Detective.
Buy now in print, ebook, or audio…
"Amsden continues the story of the only mundane member of a supernaturally-gifted family in this middling sequel to Cassie Scot: ParaNormal Detective. Cassie, stubborn and proud, is bravely trying to live on her own after her family disowns her. Struggling to make ends meet, she accepts a case involving a pair of magical girls who disappeared from summer camp. With the aid of the handsome Evan Blackwood, to whom Cassie is attracted despite her family's disapproval and her own better judgment, she follows the trail of the missing girls. What she finds is a dark side of the magical world, and the hidden depths of her family's past force her to reconsider long-held assumptions. The growing complexity of Cassie's world makes this an entertaining installment, focusing as much on the will-they, won't-they romantic chemistry between Cassie and Evan as on the primary mystery. An inconclusive ending is clearly intended to feed into the next volume." – Publisher's Weekly