I'm a chocolate snob, which isn't an easy thing to be at a grocery or department store. Top end on a store shelf will be Lindt, Godiva, or Ghirardelli (which is better for baking). For the chocolate snob on a budget these are good, solid, everyday choices. But one wonders if, perhaps, for a special occasion, there's something more.
Kansas City isn't the first place you think of for gourmet chocolates, but after spending a week doing exhaustive searches for the best chocolates nationwide, I realized that it was the place to start. It is, after all, my home. Or at least, it's half an hour from my home. Most of the nationally ranked chocolate is scattered randomly across the US, with a noticeable pocket in New England and plenty of competition dotting the map from coast to coast. These chocolatiers will be happy to ship their chocolate to you, but shipping costs for chocolate are at a premium because chocolate is temperature sensitive. In fact, some chocolatiers refuse to ship chocolate during the summer months. It's March now, an ideal month for chocolate shipping, but the bottom line is still that small samples of chocolate from each individual chocolatier is likely to average $50.
Hello hometown chocolate!
Kansas City Guide's list of the best choclatiers is out of date. For one thing, Chocolaterie Stam does not seem to have a Kansas City location any longer. For another, their top picks at Annedore's are no longer being produced.
Today, my family and I visited six local Kansas City chocolate shops. It was a delicious day! I bought samples of truffles and other recommended candies at each shop, but I spent most of the day trying the chocolate sea salt caramels, or chocolate sea salt turtles, at each location so I could make a fair comparison of the "best" chocolate in town. The combination of chocolate, sea salt, and caramel is both insanely popular (for a reason) and my personal favorite. Nearly every store recommended this type of candy as their best seller.
I have good things to say about every shop we visited, but because people like top X lists, here they are in order, based on the chocolate sea salt caramels.
(Insert drum-roll here.)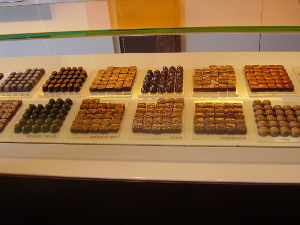 Ranked number one on several local guides, and located in the heart of Kansas City where they produce their chocolate for shipment nationwide, Christopher Elbow deserves every bit of its reputation. Though I could not find any Kansas City chocolatier on nationwide "top 10 lists" (yes, I like them too), the clerk at the store assured us that Christopher Elbow had recently been ranked #2 in the nation by Consumer Reports. I confirmed this at home – specifically, their 21-piece collection was given the coveted second place recommendation. When I performed further searches for Christopher Elbow I found them, if not listed among the top picks, then in the comment section where users said things like, "I can't take this list seriously without Christopher Elbow."
I will reserve judgment, never having tried the other shops on those lists, but I will say that if they're better than Christopher Elbow, I definitely need to save money for a chocolate tour of the United States!
Christopher Elbow was my first stop of the day, and its dark chocolate sea salt turtle set a bar too high for any other shop to reach.
Their turtle was masterfully put together. The delicate chocolate coating sprinkled with sea salt surrounded soft, melt-in-your mouth caramel and finely chopped pecans. When I broke the candy in half to share with my husband (we had a lot of candy to eat in one day), the caramel formed a long, thin string that only gradually pulled apart. That's how melt-in-your mouth this caramel was. The pecans were chopped finely enough to provide texture and flavor without overwhelming the candy or forcing you to take great big bites of whole nuts in between bites of chocolate. In fact, from beginning to end this was a consistent blend of the primary flavors. Since the caramel was so soft, the chocolate coating did not dissolve before the caramel melted in my mouth. The sea salt was sprinkled fairly evenly across the top, allowing me to enjoy the candy in several small, delectable bites.
Please note that this is a pricey store. The turtle was $3. Their bon bons were $1.75 each. (Note: they cost closer to $2.50 each if you want it in a cute box. I recommend bringing your own box!) 
The friendly clerks at Christopher Elbow recommended its chocolate drinks and mentioned that they offer discounts on "First Friday," the first Friday of each month, including no sales tax if you pay in cash. We will be back!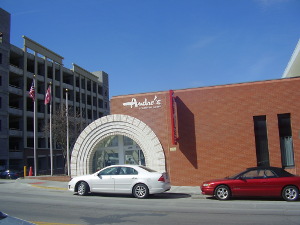 Andre's, near the Country Club Plaza, is more than a chocolatier. They are a bakery and restaurant as well. I plan to return to try some of their pastries. Since we arrived at Andre's near lunchtime, we considered stopping for lunch but their limited menu (which includes two choices, changed daily) would not have suited our tiny tag-alongs.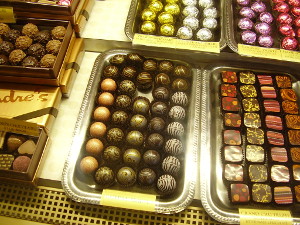 Andre's did not have a turtle, but the friendly lady behind the counter recommended a chocolate sea salt caramel. This small, round, chewy delight contained the ideal ratio of chocolate to caramel. The caramel itself was soft, sweet, and delicious, and those two flavors blended perfectly. In fact, the only minor problem with the Andre's caramel was that it was a one-bite wonder. The sea salt was not distributed evenly across the top of the beautiful candy, but instead placed in the center in a tiny ball. The net result is that if you want to savor the candy over more than one bite, you'll sometimes get sea salt and sometimes won't. Given the size of the candy, you could make an argument that it is supposed to be eaten in one bite and if that is your opinion, then Christopher Elbow has real competition. However, I feel strongly that candies should scale to individual bite sizes.
Andre's was a little cheaper than Christopher Elbow, depending upon the candy. The ones made with pricey liquers were, of course, more expensive. Those were over $2 .Most of the rest were closer to $1.40 each (ballpark). They also sell a much wider variety of chocolates, pastries, cakes, and other sweets. I look forward to testing the truffles I purchased from them after I've had a chance to digest today's chocolate indulgence!
Coming in third place, on the chocolate-caramel combo at least, was Annedore's, a beautiful little shop near the Country Club Plaza. They were all decked out for Easter when we arrived and aesthetically speaking, this store took the prize with its rich mauve walls, elegant chandelier, and innumerable displays of chocolate bunnies in various poses.
Unfortunately, it came in dead last for customer service. This was our fifth stop of the day, and up until we arrived at this shop our pronouncement that we were on a "Chocolate Tour of Kansas City" was met with varying degrees of enthusiasm (or at least amusement) from the clerks and staff. Most were excited to be a part of it, and took pride in suggesting their best chocolates. Not so at Annedore's. Don't get me wrong, there was nothing rude or unprofessional about the service we received here, but the woman working there had my eight-year-old saying out loud that she "seemed pretty sad." (Unfortunately in an awkwardly loud voice that the aforementioned sad woman could overhear quite plainly!) Still, though I could not say it aloud I must admit I agreed with him. I don't know about you, but regardless of the quality of products at a store, customer service makes a difference. Enthusiasm and pride make a difference. Annedore's was my least favorite stop of the day. I did not have fun there.
Nevertheless, their chocolate sea salt turtle was the next best after Christopher Elbow and Andre's. The caramel was nearly as soft, the chocolate of comparable quality. The biggest reason that their candy came in third was its size – it was too big. Which meant that the chocolate to caramel ratio was off – a big hunk of caramel wrapped in a thin layer of chocolate meant that the chocolate flavor dissolved away, leaving only the caramel and nuts. Each bite was a less complete experience.
For the cost conscious among us, I will also add that Annedore's is less expensive than Christopher Elbow. Their prices are right at the same level as Andre's. (About $1.40 per truffle.)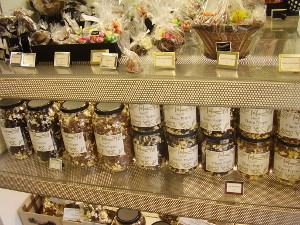 Its chocolate caramel may not be high on my list, but my family had more fun at this stop than any of the others, bar none! We wandered around the chic store for a few minutes, looking dubiously at their chocolate popcorn, chocolate-covered oreos, and chocolate-covered cornflakes before we told the man and woman behind the counter that we were on our "Chocolate Tour of Kansas City." When we said we had set out to find out which chocolate shop was the best, the young man rose to the challenge! He immediately went in the back and brought out samples of their truffles and chocolate-cove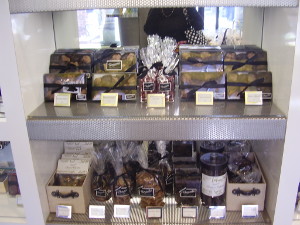 I feel the need to stop here and say, wow! Chocolate-covered cornflakes? I couldn't believe how good these were. I mean, cornflakes, right? But they were mostly Panache's smooth chocolate with just a bit of crunch. A nice texture variation and my biggest, most pleasant surprise of the day. I would go back to Panache for those cornflakes alone.red cornflakes. Then he started bouncing around the store, overwhelming us with all the awesome chocolates he had to sell us.
Every shop recommended their caramels, and Panache was no different. I suppose chocolate and caramel is just one of those easy combinations that people love, regardless of where they are. And Panache's caramel was fine. I think it is very accurate to call it a "caramel," however, rather than a "chocolate sea salt caramel," because their high-quality caramel is firm, meaning that the thin chocolate coating melts away well before the caramel begins to soften. The result is that you get a quick frisson of chocolate followed by a long, leisurely excavation of caramel.
The prices at Panache vary depending upon what you go for, but overall I found them slightly cheaper than Christopher Elbow's, right on a level with Andre's and Annedore's, if not a hair cheaper. Their caramel cost $1.25, the bag of cornflakes $6. They have lots of great gift possibilities in a wide range of prices.
(Note: I apologize for the lack of photograph. This was our sixth stop of the day, we were tired, and we just plain forgot to take the camera out.)
This little shop located in Prairie Village, our last stop of the day, was also our most affordable. We left with just as much candy as we did from anywhere else, but at a fraction of the cost. This store makes all its own candies and fudge, and the size of its selection was second only to Andre's. We could, of course, only sample a small fraction of what they had to offer.
Laura Little's does have a turtle, but it does not contain sea salt. I will stop right here and say that it really needs it. I only discovered sea salt as an addition to chocolate a few years ago, but whoever came up with it was brilliant. He or she should go right up there in chocolate history alongside Johannes van Houten.
Laura Little's did have a chocolate sea salt caramel (no nuts), and as the price was so reasonable, I gave that a try as well. This candy was nice and big, the kind you can really sink your teeth into. A lot of the upscale chocolatiers miss the value of that satisfying, sink-your-teeth-in feel. This was no delicate little chew, but a real mouthful, even if you have a big mouth. The only downside was the quality of the chocolate which, while good, could not compare with the high-end shops we visited.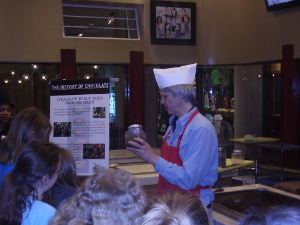 Chip's Chocolate Factory, located in the Crown Center shopping mall, has long been a favorite of ours for the mouth-watering fudge that they make right in front of you. The store is never short of kids watching the master of fudge throw chocolate ribbons high into the air like a chocolate acrobat.
Chip's does not rate as one of Kansas City's best for chocolate and I can understand why. While their fudge is amazing, I found their chocolate to be subpar and overpriced. Their truffles are 3 for $4.99 and the rest of their candy is sold by weight, $4.75 for 4 oz. 
Their turtle was not good. I won't go so far as to say that it was bad, because it's really hard to make halfway decent chocolate, nuts, and even low-quality caramel taste bad. But please, don't go to Chips for the candies. Go for the fudge. In fact, don't go anywhere else for fudge. It's awesome!
But back to the turtle, which I must reluctantly describe for you. The caramel was stiff, too chewy, and not smooth. The chocolate might have been okay, but it melted away in an instant, leaving only the inferior caramel and so many whole almonds that they fell out of the candy, leaving me to eat the salted almonds by themselves. (Not that I dislike salted almonds, but that's not the point of a turtle.)
***
The bottom line is that even my last pick on this list of caramel-chocolate combos is a worthy store. Kansas City may not rate nationwide (at least according to most lists) but we have a great variety of delicious chocolate right here to enjoy!