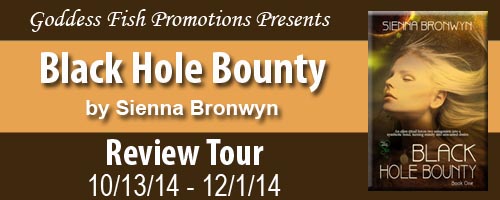 BLURB:
Destiny is written in the stars? Maybe, but when you're in a black hole you make your own damn destiny.
It's not every day you get abducted by an alien general, but then, Jerusa Whichab isn't having an average day. Earth is fading from view and she's got a decision to make – cooperate with her despotic, yet unnervingly attractive captor or receive an injection of goo. General Toyeb can't be trusted, and his body-healing, mind-blowing Theta waves leave her panting for more. But what choice does she have if she's to stay alive?
None, if enemy bounty hunter Berwyck dal Korth has his way. Intent on capturing Jerusa, he performs a binding ritual to ensure she cannot escape him – a ritual with unforeseen side effects for both of them. Forced into hostile proximity, Berwyck and Jerusa battle to subdue their rising attraction, but will they conquer their desire – or succumb?
~~~~~~~~~~~~~
My Review: 
Black Hole Bounty defied my expectations. I mean, in some ways it was what I expected – it is a romantic alien abduction story after all — but it managed to throw me for several loops and even at the end, I can't honestly say for sure I know where the rest of the series is going. I just know I want to find out!
I was quickly drawn into this story because of its light, conversational, and easy narrative voice. It actually made me think a little of my own Cassie Scot series (in narrative style only

).
The story itself began with Jerusa being kidnapped by aliens … they need her. Well, they need her blood to cure a disease. Apparently, one of her ancestors wasn't exactly human and so many generations later, neither is she.
I was concerned about the story a bit during the first half. I did not like General Toyeb, the man who kidnapped her and who I originally thought would be the main romantic interest. I also thought Jerusa was a bit too trusting. But as I said, the story defied my expectations. It took a major right turn halfway through and the second half just kept getting better and better, leaving me wanting more by the end!
Among other things, I like the creativity of the world building, the thought the author put into the alien biology, and the fact that though there is romantic interest here, the aliens are not human.
I believe this is a new author. And I think one to watch!
~~~~~~~~~~~~~
AUTHOR Bio and Links:
Sienna spent her adolescence staring at the dark skies over the Caribbean coast of Panama, dreaming up romantic adventures she now delights in writing down. She reads, writes and revels in romance, and she's attracted to off-beat, sexy characters—in fiction and in real life! These days she lives a long way from the Caribbean, but when she drags her husband and children to Hermitage Castle to gaze at the stars, the vast beauty of space makes her feel at home. Who knows, maybe an alien will pop down and invite them on a ride?
You can find out more about Sienna and her books on her website: www.siennabronwyn.com.
Zoom down with a message on FB: https://www.facebook.com/sienna.bronwyn or
Tweet to her @Sienna_Bronwyn
Buy links:
http://www.amazon.com/Black-Hole-Bounty-Sienna-Bronwyn-ebook/dp/B00MU46IM8/ref=sr_1_1?ie=UTF8&qid=1408465287&sr=8-1&keywords=black+hole+bounty
http://www.barnesandnoble.com/w/black-hole-bounty-sienna-bronwyn/1120161444?ean=2940150734760
http://store.secretcravingspublishing.com/index.php?main_page=book_info&cPath=30&products_id=933&zenid=885456d5a9caf51600fa6e792b90cac9