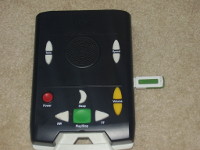 Most of you know that twenty years ago, I was diagnosed with Stargardt's Disease, a degenerative eye condition that results in loss of central vision. Or, to put it in more practical terms: My world is a blur, and should I ever pass you on the street you will be nothing more than a human-shaped blob of various colors. I write by using 36-pt font on my word processor. I edit the same way. I pride myself on being very good at both of these things, despite my limitations.
But at the end of the day, when I want to relax with a book, it can only be an audiobook.
I listen to over 95% of my books on that machine you see pictured at the top. What you see there is a digital audiobook player provided for free by the National Library Service, which issues audio and braille publications to the blind and physically handicapped. It's not small. It's no iPod. It's about the size of a trade paperback, and weighs about two pounds. I can't take it with me for a run, although I often place it on the kitchen counter to listen while I cook dinner.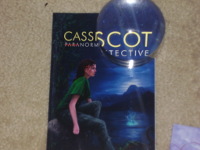 Do I "need" to listen to my books? Could I just use a magnifying glass? Well, here's a picture of my book and my biggest magnifying glass. It does a fair job of making things bigger. But there are two problems with this magnifying glass. First of all, it's huge and clunky. This was the reason I didn't start reading for pleasure with the device years ago, when I entered college. My vision dropped off startlingly at that point, but I only used the magnifying glass to read textbooks. And only because I had to. It was no pleasure.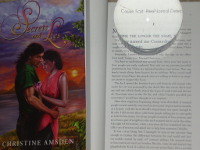 The second reason is, I'm afraid, that these days it just doesn't magnify enough. I have an ebook reader I can handle on its largest setting, but magnifying glasses don't get the print in paper books that big, and even ebooks are a strain at the end of the day.
So for me, it's audiobooks. It has been ever since I was 21, and finally decided that I couldn't go the rest of my life without reading. I don't think I read a book for pleasure between the ages of 18 and 21. College might have been part of that, but only a part.
Looking back, I don't know why I resisted for so long. Audiobooks are wonderful, whether you have a real need or just want something to listen to while you commute to work. Listening to a book isn't the same experience. There's a lot of interpretation on the part of the narrator — no way to avoid that — not to mention, you're using an entirely different sense (hearing instead of sight). But it's a wonderful, relaxing way to enjoy a good story.
When my books started getting published a few years back, the one thing I wished for them above all else was that one day they could become audiobooks. Then, a few months ago, a fellow author (Aaron Paul Lazar) told me it was easy. There's a company called ACX that puts authors and narrators together. We could even agree to work on a royalty-share basis, meaning that instead of paying my talented voice actress up front, she and I split the profits.
Cassie Scot: ParaNormal Detective is now available for purchase. The sequel, Secrets and Lies, will be recorded as soon as it is commercially available. (ACX does not allow for the recording of books before they have a listing on Amazon.)
I will say that commercial audiobooks are largely outside of my experience. I have listened to the same readers through the Talking Books program for so many years that simply hearing another narrator was a bit strange for me. And there are so many different styles to choose from! Do you want your narrator to sound sober, serious? Precise? Loud? Do you want accents? Do you want sound effects?
Out of a list of about a hundred different styles, I chose "engaging" for Cassie, and went with the narrator who most sounded like she was enjoying reading the book.
And here it is, one more time, the first chapter of Cassie Scot performed by Melissa Reizian Frank:
Cassie Scot Chapter 1 read by Melissa Reizian Frank
Update Required
To play the media you will need to either update your browser to a recent version or update your
Flash plugin
.